More than 20/20, we want our patients to be "20/Happy"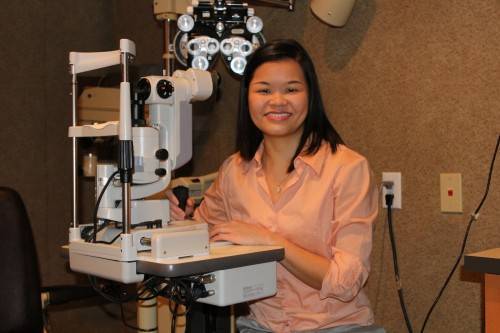 Optometrist
Dr. Meimey Wong grew up in Oklahoma City, Oklahoma. She completed her doctorate at Northeastern State University Oklahoma College of Optometry in Tahlequah, OK in 2012 with honors. She attended the University of Oklahoma and...
Optometrists Serving Mill Creek, WA Since 1983
At Mill Creek Vision we strive to provide and promote a lifetime of healthy vision for our patients. We have been taking care of our patients' most precious sense – vision – since 1983. Our mission is to provide a lifetime of healthy vision for our patients. More than 20/20, we want our patients to be "20/Happy". Our services include eye examinations for glasses. We also provide contact lens vision examinations. Our contact lens services include prescriptions for cosmetic contact lenses such as Bausch & Lomb, Alcon, Johnson & Johnson Acuvue, CooperVision, and CRT orthokeratology.
We prescribe scleral contact lenses for irregular or injured corneas and we provide pre-operative LASIK recommendations and post-operative LASIK care. Our medical eye services include conditions such as eye infections, allergies, cataracts, glaucoma, dry eyes, blepharitis, and macular degeneration.
For our patients' convenience, we also have an optical. Our inventory of eyeglasses and sunglasses includes frame brands such as Nike, Dragon, Ovvo, Rayban, Dolce and Gabbana, Burberry, TC Charton, Tiffany & Co., Fysh, Kliik, and NW 77th. We also fit single vision and progressive addition multifocal spectacle lenses of the best optical quality. Lenses such as Essilor, Varilux, Shamir, Zeiss, and Hoya.
We welcome filling prescriptions written from other doctors and are panel providers for many of the medical and vision insurance companies such as Regence, UnitedHealthcare, Premera Blue Cross, VSP, EyeMed, and Medicare.
Mill Creek Vision is conveniently located in the center of Mill Creek on the first floor of the Mill Creek Clinic. Our optometry clinic welcomes patients from all surrounding areas, including nearby Bothell and Woodinville, WA.
DriveSafe, a new lens by Zeiss Vision Care. You gotta try this lens! It's Dr. Arima's favorite.
We recommend Bausch & Lomb ULTRA contact lenses for patients who require more moisture for enhanced end of day lens comfort. ULTRA technology features almost 100% water at the lens surface for improved comfort with each blink. If you are interested in trying contact lenses, or would like to try a truly comfortable lens, make an appointment today.
Focus on Technology
The Optos Daytona Optomap exam is fast, painless and comfortable. Nothing touches your eye at any time. It is suitable for the whole family.
Focus on Contact Lenses
Whether you wear daily, weekly or monthly disposables, or conventional (vial) lenses, check out our selection of lenses that fit your needs.

Focus on Designer Eyewear
We have an extensive selection of eyewear including the latest styles in designer sunglasses and prescription eyeglasses.
Jul 22, 2016
There have been a lot of videos going viral lately of color blind people "seeing color" for the first time using specialized glasses. The emotional reactions of amazement, shock and joy even lead some to break down into tears. The glasses provide these individuals a way to view the world...
Jun 26, 2016
Whether it is the sea, the sand, the sun or the softball field, summer brings people outside and this creates exposure to a multitude of potential dangers to the eyes. One risk that is possibly the least obvious is the swimming pool. Swimming pools are the culprit for multitudes of...
WE CAN REDUCE & SLOW THE DEVELOPMENT OF MYOPIA (NEAR-SIGHTEDNESS) WITH CONTACT LENSES!
New Studies Showing Less Myopia (less near-sightedness), increases with the wear of multifocal soft contact lenses. One study finding 25 percent less near-sightedness progression when children wore soft multifocal contact lenses. Another study finding the best effects when the multifocal soft contact lenses were worn for at least 7 hours a day. The best results were with "center-distance" multifocal soft lens optical designs.
LOCATE US
15808 Mill Creek Blvd. Ste. 110
Mill Creek, WA 98012
OFFICE HOURS
Monday:

9:00 AM - 5:00 PM

Tuesday:

9:00 AM - 6:00 PM

Wednesday:

9:00 AM - 5:00 PM

Thursday:

9:00 AM - 5:00 PM

Friday:

10:00 AM - 5:00 PM

Saturday:

9:00 AM - 2:00 PM

Sunday:

Closed